JDR6102 Heart 4 Roses

Brazilian Embroidery Hearts & Flowers Design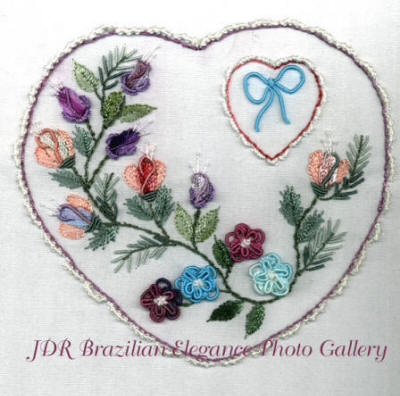 Designed by Dexie Smith for JDR-BE
Graphics and Directions by Sunshine
Stitching Area: 5.5" x 5.5
Registration Marks: 8" x 8"
Fabric: 12" x 12
A Quilt Block can be cut perfectly from the 8" square up to the 12" fabric cut size.
Directions for all the design elements are included. A stitch review is provided.
If you have the basic knowledge of cast-on stitches, blanket stitches, bullions, French knots, stem stitches and alternating satin stitch this design will be very easy. If you are just starting in your adventure with Brazilian Embroidery this will be a great learning design.


♥JDR 6102 Heart 4 Roses
Pattern Number JDR 6102
Screen printed design guide on Trigger Fabric
Cream Fabric
$9.00
White Fabric
$9.00
EdMar Thread Packet # of Skeins 19
$ 19.00
Matching Fabric 15 x15 Backing
(If making a pillow)
$1.80
Suggested Colors and weights of EdMar threads
that were used in this design.

Greens: Iris 053, Iris 173 Iris 040
Ferns & stem to fern: Iris 062
Ruth's Tole Rose
Rose #1 Iris 125 Glory 408
Rose #2 Iris 125 Glory 107
Rose #3 Iris 125 Glory 077
Rose #4 Iris 125 Glory 327
Glory 000 white.

Jacqueline's Rose:
Rose #1: Iris 119, Iris 307
Rose #2: Iris 119 Iris 089
Rose #3: Iris 119 Iris 037
Rose #4: Iris 119, Iris 307

False Mallow Flower:
False Mallow #1: Iris 328
False Mallow #2: Iris 140
False Mallow #3: Iris 143
False Mallow #4: Iris 063
Centers: Iris 000 white.
Small Heart: Iris 089 Iris 000
The large heart shape Iris 143 or 328 & Iris 000.
The Bow: Iris 140

If you prefer you may choose your own colors





---