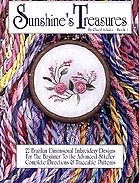 Sunshine's Treasures, Book 1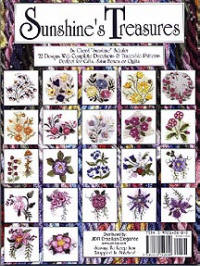 By Cheryl "Sunshine" Schuler
Click on the picture for more information.
fun2stitch proudly presents it's newest book!
This book has directions for the beginner to the advanced stitcher. Opening a skein to stitching double cast-on stitch drizzles over multiple needles! Large diagrams and easy to follow directions. AND 22 traceable designs for you to stitch into a quilt, small pictures, satin box tops or onto your clothing. 100 pages
BK-S133 $24.95
Please have Sunshine Sign my book

---
Brazilian Embroidery 101, BK-BE101 with traceable design: Sunshine's Valentine 128 pages spiral bound.
Don't have a teacher near by and you want to learn Brazilian Dimensional Embroidery? This is the ultimate instruction handbook for learning the BE techniques. Feel like "Sunshine" is sitting right there and showing you what to do every step of the way.

Or if you are a teacher - this is a great teaching tool for your classes.


$24.95 BK-BE101 Book Only with traceable heart
ISBN 0-9721428-1-9

---
<![if !vml]>
<![endif]>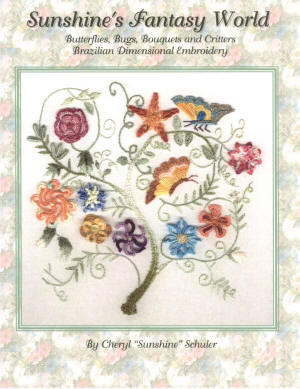 Butterflies, Bugs, Bouquets and Critters
Brazilian Dimensional Embroidery
Sunshine's Newest book
All Color Pictures
136+ Traceable Designs Directions and traceable drawings for front & back covers.
60+ Flower Directions
28+ Stitch Reviews
Many Floral Arrangements,
Butterflies and more Butterflies, Tropical Birds, Dragonflies, Bumble Bees, Bugs, Creepy Crawlies, Lady Bugs, Sea Creatures, Birds, Caterpillars and more fun things to stitch onto a garment, quilt block or make a wall hanging, a picture or a cushion!
BK-S134 $29.95
---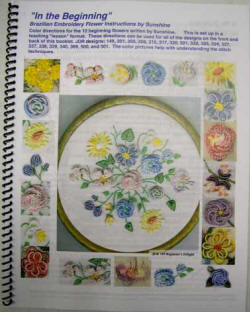 "In The Beginning" Flower Instructions by Sunshine 20 page booklet of color directions for the 12 beginning flowers written by Sunshine. This takes you beyond the book by Ria Ferrell. This is set up in a teaching "lesson" format.

The color pictures help with understanding the stitch techniques.

BK-I101 In The Beginning $11.99





---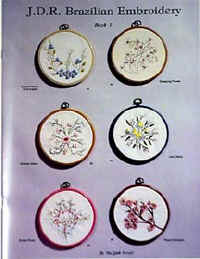 JDR Brazilian Embroidery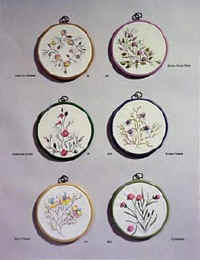 Book 1


by Ria Ferrell


This book has the 12 flowers that all beginning Brazilian Stitcher's should learn first. Kits to match the stitches taught in this book are available that include the print, ecru or white, threads, needles, and teaching directions. Also there is available "Prints with Directions" in white and ecru of the 12 designs in this book.
A great teaching tool and a great quick reference guide. These 12 would be great made as a quilt!



BK-J101 $8.95 Kit #1 or Print with Directions #320 Cross-Needle Hydrangea
Kit #2 or Print with Directions # 337 Creeping Flower
Kit #3 or Print with Directions #321 Gerone Daisy
Kit #4 or Print with Directions #317 Lazy Daisy
Kit #5 or Print with Directions #316 Rolled Roses
Kit #6 or Print with Directions #338 Peach Blossom
Kit #7 or Print with Directions #323 Bossa Nova Rose
Kit #8 or Print with Directions #339 Cast-on Flower
Kit #9 or Print with Directions #325 Japanese Violets
Kit #10 or Print with Directions #327 Snow Flower
Kit #11 or Print with Directions #322 April Flower
Kit #12 or Print with Directions #340 Carnation
---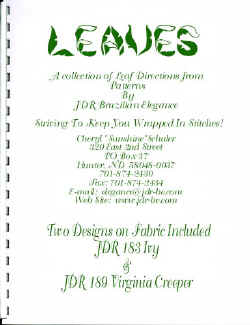 Leaves
Brazilian Embroidery Thread Leaf Instruction Booklet
Includes two prints to stitch!

BK-L500 $15
---
The Art of Dimensional Embroidery by Maria Freitas

Detailed instructions for 29 stitches and how to use them to make over 40 flowers and leaves. 48 illustrated pages.

On the cover: Pattern # 1607 Hanging Bouquet 14" x 24" in cream or white is available from JDR

BK-A115
$26.95
---
Apples to Zinnias

by Maria Frietas




Over 50 illustrated pages of instructions for stitches, leaves and flowers. Comes with full size tracing pattern.
#1603 Apples to Zinnias
sampler print of 18" x 27"with 26 designs in 1 project.
#1604 Meadow Medley
a smaller design (16" x 24")
also available from JDR

BK-A114
$21
---