JDR 6101 Heart Flower Sampler
Brazilian Embroidery Hearts & Flowers Design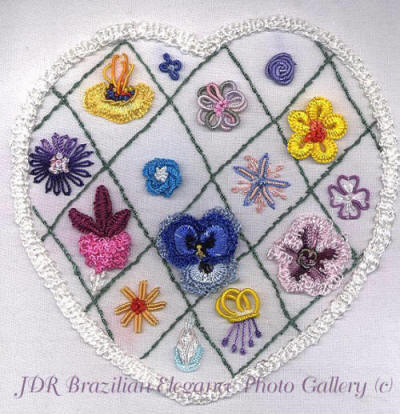 Designed by Dexie Smith for JDR-BE
Graphics and Directions by Sunshine
Stitching Area: 5.5" x 5.5
Registration Marks: 8" x 8"
Fabric: 12" x 12
A Quilt Block can be cut perfectly from the 8" square up to the 12" fabric cut size.

Directions for all the design elements are included.
A stitch review is provided for Double Cast-on Stitches. If you have the basic knowledge of cast-on stitches, blanket stitches, bullions, French knots, detached buttonholes stitches, stem stitches and alternating satin - stitch this design will be easy.
15 Flower directions!

A Great design to use up a lot of colors in your stash or if you are just beginning to stitch Brazilian Embroidery - This is a great stash building design.

♥ JDR 6101 Heart Flower Sampler
Pattern Number JDR 6101
Screen printed design guide on Trigger Fabric
Cream Fabric
$9.00
White Fabric
$9.00
EdMar Thread Packet # of Skeins 31
$ 37.50
Matching Fabric 15 x15 Backing
(If making a pillow)
$1.80
Suggested Colors:
April Flower: Iris 203 Center: Iris 033 Pistils: Glory 106
Forget-Me-Knots: Iris 123 Center: Iris 146
Japanese Violets: Lola 327. Center: Lola 218
Bossa Nova Rose: Lola 219
Vinca: Lola 113 Center: Lola 009
Lazy Daisy: Lola 077 Center: Lola 327
Camellia Bud: Iris 212 Center: Lola 000
Fancy Spider Daisy: Lola 023, Iris 119
Dogwood: Glory 127 Center: Iris 000
Frilly Fuchsia: Lola 142, Boucle 131
Old Fashioned Pansy: Lola 146, Iris 146, Glory 146, Glory 123, Iris 203, 206
Primrose: Iris 322, Iris 327 Iris 135
Bullion Daisy: Lola 203, Center: Lola 009
Snowflower: Lola 113 Pistils: Iris 077
Ruth's Rose Bud: Iris 063, Glory 097
Green Lines: Lola 170
Outside Heart: Nova 000 x 2
If you prefer you may choose your own colors





---