Title: JDR 398 Brazilian Dimensional Embroidery Pattern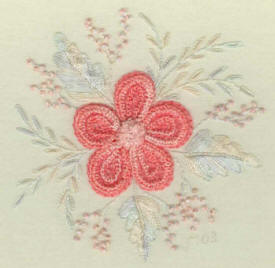 Flower For My Grandma
JDR 398 Flower For My Grandma
Brazilian Embroidery Design by Judy Hill

(5.5" x 5.5") Approximate Fabric Cut Size 12" x 12".

This is a good embroidery project for those just completing a beginner level of Brazilian dimensional embroidery.

To learn the blanket-stitched leaf and to practice that all-important detached buttonhole stitch.
Any embroidery beginner books can be used to review the lazy daisy stitch, stem, and chain stitches as well as colonial knots and the couching stitch.

If you have the basic knowledge of the above embroidery stitches, you will need no other directions.

Quilters: Consider this print for quilt blocks!

♥ JDR398 Flower For My Grandma
Pattern Number JDR 398
Screen printed design guide on Trigger Fabric
Cream Fabric
$8.00
White Fabric
$8.00
Thread Packet # of Skeins 5
$7.75
Matching Fabric 15 x15 Backing
(If making a pillow)
$1.80
Thread Requirements:
Leaves and Stems Iris 306 (14 yards)
Base Layer of Flower Lola 104 (10 yards)
Top Layer of Flower Lola 115 (6 yards)
Flower Center Lola 104 (2 yards)
Field Flowers Lola 104 (2 yards), Iris 306 (2 yards)
If you prefer you may choose your own colors






































































































































































































---

View Cart